SLEEPING IN LUXURY
Exclusive hotel rooms & suites in Severin*s on Sylt
---
We offer variety, generosity and well-being in an exclusive setting. You can choose a home away from home from 10 different hotel room and apartment categories, and experience the island of Sylt from its most beautiful side.
Our Severin*s Resort & Spa offers 62 luxuriously equipped rooms and suites, ranging from 40 to 200 m², as well as 3 apartment buildings with 22 apartments from 35 to 130 m², for 2 to 6 guests. Choose your home away from home from 10 different room categories. Whether you choose a Superior Double Room, a Spa Suite or a Maisonette Family Master Suite: you will be amazed! The modern, high-quality Frisian-style furnishings are sure to please you. The use of finely crafted natural materials guarantees comfort and well-being in an exclusive setting. Some of our Superior and Deluxe rooms have a private terrace with a traditional Sylt beach chair and elegant patio furniture.
All rooms and apartments are equipped with box-spring double beds, a flatscreen TV, Sky TV, wireless internet access, radio and direct dial telephone. There is also a minibar, a coffee maker, tea selection and an in-room safe. In the suites you can breathe easy, with a ceiling height of up to 6 meters. The bathrooms in our rooms and suites have a rain shower and a bathtub, as well as illuminated mirrors and a hair dryer. You will also find exclusive La Biosthétique toiletries from Paris.
Apartment Houses
Rooms & Suites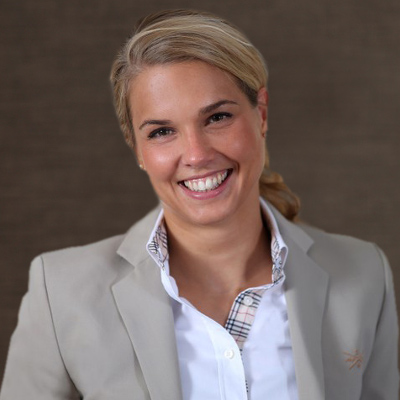 Stefanie Blass
Reservations manager
In order to make your stay as pleasant as possible and to choose your travel dates, please send us your non-binding inquiry for your reservation or contact us at:

04651 460 66 0 or info@severins-sylt.de
Personal data is collected and processed on the basis of the applicable data protection laws, in particular the EU Data Protection Regulation (DSGVO) and the Federal Data Protection Act (BDSG), for the processing of your contact request. We only pass on your data to third parties, when we are legally obliged to do so. Our information on data protection according to Article 13 or Article 14 of the EU Data Protection Regulation can be viewed on our website at www.severins-sylt.de/en/privacy-policy/ or under the telephone number. +49 (0) 4651 46 06 60 or via info@severins-sylt.de.
* Mandatory field